We Believe in User Centered Design
When designing web sites we take an anthropocentric approach. In other words, users are the center of the universe.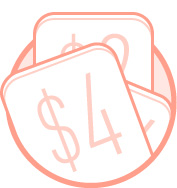 We Design for Conversion
We go beyond the old model of designing websites. That's why you need a long-term content strategy, one that let you see what your online competitors are doing.
We Work til' You Are Fully Satisfied
From signing a web contract to launching your site (and beyond); our priority is to make you happy as a client.
We Go Beyond the Traditional Web Design Approach…
And Apply a More Effective Model to Build Websites
WEBSITES THAT GET RESULTS
RESPONSIVE WEB DESIGN
What is the point in designing a website that looks great on PC screens but terrible on smartphones? With the increasing number of people using mobile devices, there is no reason to stay out of the trend. Responsive design means having a site that evolves with the constant changes in technology. It is a way to customize a visitor experience, and make the content accessible for your all visitors despite the device they use, whether it's a tablet, a smartphone or a desktop.
E-COMMERCE SOLUTIONS
Are you planning to sell products online but you have no idea where to start? Ideaweb offers e-commerce solutions for small and middle size companies in Miami, Florida. Basically, we give you a couple of options to approach a web project of this nature. And your last choice depends on what you want to achieve and what platform makes you feel more comfortable and safe.
WEB SUPPORT SERVICES
Being online does not look like something to worry about it, but when you own a website, some unexpected events can turn your peaceful day (maybe in the Caribbean) into a freaking experience in front of your customers. Ideaweb offers you a range of Web-support services to rescue your site when it just needs a hand or yells desperately for help.
Claudia Alvarez
CEO
She enjoys talking to people and fixing technical stuff when others give up. As a system engineer, she has the ability to look at the big picture and find recipes for long term solutions.
Sandra Garcia
VP and Accounting
She handles the paper work and gives us the green light to start working on every web design project. Give her a call if you just want to say hi, pay your invoices, or clarify a doubt regarding to web design contracts.
Leonardo Alvarez
Project Manager
He has been for a while in the web design field. His role is to make sure that your web project meets the industry standards and is delivered in a timely manner.
Cochi
Security Assistant
Do not misjudge him by his size; this dog is certainly dangerous. If you are one of those people who enjoy ringing the bell for fun, get ready to be chased. Watch out!
WANT TO WORK WITH US?
Get the ball rolling!